Jenny Goodhue - Sam Adams
The church grieves the tragic loss of Jenny and Sam, July 14.


Service of Life Celebration program
Visitation: Sunday, July 18, 3-5, 7-9 in Sanctuary
Funeral: Monday, July 19, 11AM in Sanctuary
Sam Adams/Jenny Goodhue Memorial Band Show
On Friday, August 13 from 6 to 11 pm the youth of CHBC sponsored the Sam Adams/Jenny Goodhue Memorial Band Show. Sam and Jenny had begun planning this show earlier in the summer and wanted it to be a free show.


As a memorial to Sam, Nathan Busse and others produced a CD, Memories in Stereo.







kickball game - June 4, 2004
How can we say good-bye?
Kenya Trip photos - Aug 2003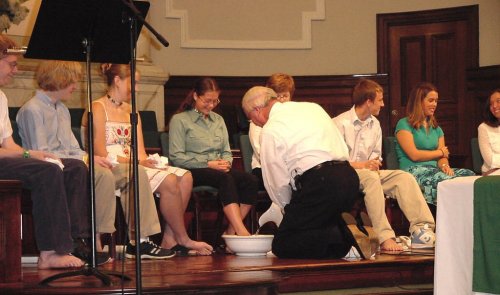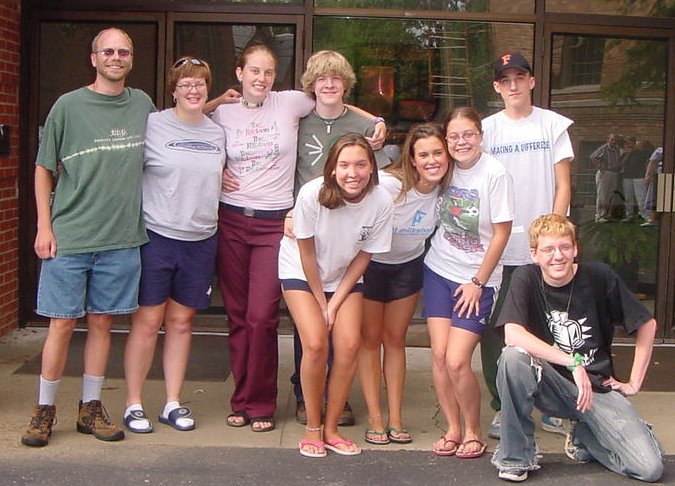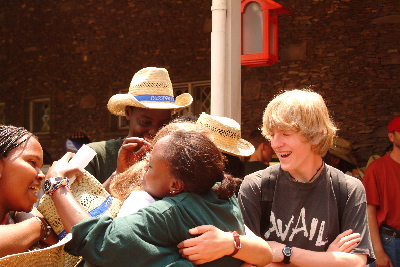 Kenya Reflection
I have never experienced anything else like it: the Masai Mara game reserve in Kenya. The land was beautiful. The sunrise and sunset (which I actually saw every day during my visit) were absolutely breathtaking, enough to bring tears to your eyes. The animals that we saw would strike fear and awe into your heart and the people: they could inflame passion in your soul. The Masai people are some of the most amazing and interesting cultures in the world. Their diet consists primarily of water and cow's blood and they live in houses that have ceilings no higher than four feet. The idea that people can survive in that environment is stunning to me: shows what I know. These people, like all the others I met in Kenya, look at life so positively for having so little. They take nothing for granted, and yet, greed has not left them to their own devices completely. The camp we stayed at during our visit, the Sarova Mara campground, is owned by five Masai who are now very rich because the entire profit that comes out of that business goes to them. None of it is shared with the extremely poor Masai villagers. How can this be? How could such a disease as this exist everywhere in the world? How could it infect every culture, every country-every single mind on the planet? Perhaps not every mind. If given the opportunity, would these poor Masai villagers take from others to gain for themselves? Or would they find better ways to get ahead? Well, what if Americans served as their example? ... Uh-oh.

Samuel Adams
October 8, 2003



PASTORAL NOTE.to the members of Crescent Hill Baptist Church
FROM: Winford Hendrix and Bill Johnson
DATE: July 15, 2004

It is with great sadness that we share with you the news of the untimely deaths of two of our youth. While enroute to Colorado, Sam Adams and Jenny Goodhue were killed in an automobile accident near Topeka, Kansas. According to news reports, a tire blowout on the automobile in which they were riding caused them to loose control of their vehicle.

On Friday night youth gathered in Fellowship Hall for a time of remembering, sharing and processing their grief over the deaths of Sam and Jenny.  Mera Corlett and Anita Roper were facilitators...and Bill Johnson and I were present to offer support.

On Sunday morning, all youth will meet together for Sunday School and Bill Johnson will lead the group.



Visitation with Adams and Cole/Goodhue families: Sunday, July 18, 3-5, 7-9 in CHBC Sanctuary
Funeral for Jenny and Sam: Monday, July 19, 11AM in CHBC Sanctuary

Heritage Hall will be available for youth to gather and snacks will be available for them.


Special requests from Laura Adams Henderson and Caitlin Goodhue
Regarding the funeral service Monday for Sam Adams and Jenny Goodhue:
Laura Adams wants folks to know that, during the funeral service, there will be a time for sharing memories of Sam and Jenny, or Bible verses, or anything of relevance. Caitlin Goodhue requests that any who have photographs of Sam and Jenny or either one of them and are willing to give them as a gift to the families to bring them to the service. Baskets will be available to place the photos in.


Memorial Gifts
Plans have not been finalized regarding memorial gifts.  Persons wishing to make a contribution in their memory may make out their check to "Crescent Hill Baptist Church" and indicate on the note line (lower left of the check), "in memory of _______(Sam or Jenny)."





Obituaries from Courier Journal - Saturday, July 17
These may be viewed on line at http://www.courier-journal.com and then selecting "obituaries"
There is a guest book at the Courier-Journal site for any to view and make entries.




WLKY aired a five minute tribute to Sam and Jenny at 11 PM on Friday night , July 16, which many viewed. It was very well done and used as background music "I Know Who Holds Tomorrow", a hymn Sam's dad, D.E. Adams, had first recorded in 1983 on his Songs and Hymns cassette [re-released as a CD in 1999]. [A listing of Darrel's albums and their content may be viewed at the "authors and song writers" section of the church webpage.]

"I Know Who Holds Tomorrow"
I don't know about tomorrow;
I just live from day to day.
I don't borrow from its sunshine
For its clouds may turn to grey.
I don't worry o'er the future,
For I know what Jesus said.
And today I'll walk beside Him,
For He knows what is ahead.

Refrain:
Many things about tomorrow
I don't seem to understand
But I know who holds tomorrow
And I know who holds my hand.

I don't know about tomorrow;
It may bring me poverty.
But the one who feeds the sparrow,
Is the one who stands by me.
And the path that be my portion
May be through the flame or flood;
But His presence goes before me
And I'm covered with His blood.

Refrain:
Many things about tomorrow
I don't seem to understand
But I know who holds tomorrow
And I know who holds my hand.

-- lyics from Darrell's rendition of this old hymn
Sam's "Thank you" note to Leila Arnett - July 2004
On the occasion of his graduation in the spring of 2004, Leila Arnett (who enjoyed rocking Sam in the nursery at CHBC and watching him grow up) sent Sam a small check. Sam wrote the following note which had been addressed and sealed but not yet mailed when he and Jenny left on their fateful trip to Colorado. When she visited the Adams' on Saturday, July 17, Alice gave the envelope to Leila which contained the following note:



"Dear Mrs. Arnett,
Thank you kindly for your thoughtfulness and generosity towards me at this new and exciting period of change in my life. You have always been a source of inspiration to me at church and elsewhere. Thank you. I wish you all the love and joy life can bring.
Sincerely,
Samuel J. Adams"
[Many were the people who inspired Sam and Jenny at the church, school and "elsewhere." We would do well to adopt their attitude of gratitude and love of life as we move on in the years ahead. -- jwa]



THANK YOU
September 5, 2004
Dear CHBC friends,
In most every moment we cannot help but be surrounded with sadness by the tragic loss of Jenny and Sam. Yet even so, we are overwhelmed with gratitude for the countless ways you have found to demonstrate your love and care for us. God is using your prayers to enable us to survive each day. You are our comfort and strength. Please continue your prayers and messages of support. We are not always able to catch, or return, each call or respond to each card or spoken word as we would like. Be assured that each one is noticed and placed in our hearts where they give us comfort and courage when we need them most. How could we go through such a time without you? We must encourage one another and strive to live each day to the fullest. Give those you love a hug as often as you can. As you are being Christ to us, may we all be Christ to the world. This will make the world a better place as Sam and Jenny so desired to do.
Our heartfelt thanks to you.
Darrell & Alice Adams, Margaret & Steve Cole,
Caitlin Goodhue, Laura & Tyler Henderson



Jenny - Sam art work and photos
Jenny was studying art and Sam had shown an interest in photography.
Uploaded here are a few of Jenny's paintings and eventually some of Sam's photos.


---
CRESCENT HILL BAPTIST CHURCH
2800 Frankfort Avenue
Louisville, Kentucky 40206
(502) 896-4425