Delma Lucille Douglas Burhans (Jan 13, 1916 - Feb 21, 2001)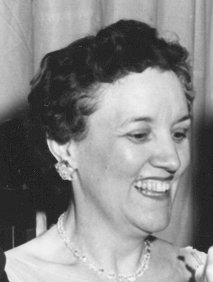 Delma Burhans, 85, died Wednesday, February 21, 2001, at Jefferson Manor. She was the wife of Dr. Rollin S. Burhans, pastor emeritus of Crescent Hill, who served as pastor from 1946 to 1960. When he left to take the position of President of Kentucky Southern College she became the College's First Lady and gracious host and friend to the students.

Mrs. Burhans was born in Bolivar, MO. In addition to her active work in the life of Crescent Hill Baptist Church she served the former president of the Southern Baptist Convention Ministers' Wives Conference and was active in the Crescent Hill Woman's Club and the P.E.O.

She enjoyed singing and playing the piano and flute. She instilled in her sons a similar love of music and devotion to Christ.

She and Dr. Burhans have three sons: Rollin S, Jr., David and Kenny. There are nine grandchildren and ten great-grandchildren (plus four on the way). She is also survived by a sister, Marjorie D. Olive.

Funeral: 11 am Saturday at Crescent Hill Baptist Church
Burial: Cave Hill

Memorial gifts: the church endowment fund or Alzheimer's Association.

The photo below was taken 1960 in Fellowship Hall at a farewell dinner for Dr. and Mrs. Burhans at which time John P. Sandidge is featured making a presentation.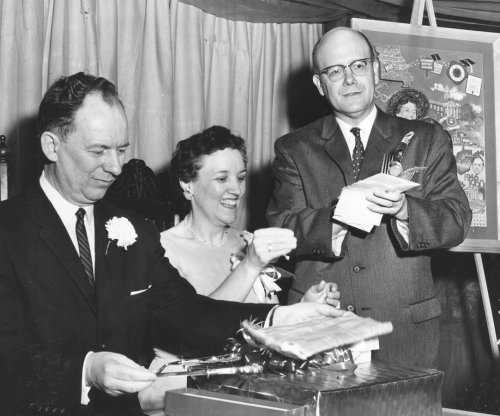 W.W.Arnett had painted a portrait for the occasion.



























Mrs. Burhans enjoying a light moment with Mrs. Ellis Fuller at a church WMU meeting.












---
CRESCENT HILL BAPTIST CHURCH
2800 Frankfort Avenue
Louisville, Kentucky 40206
(502) 896-4425
---
We would like to hear from you.
---
Return to Home page